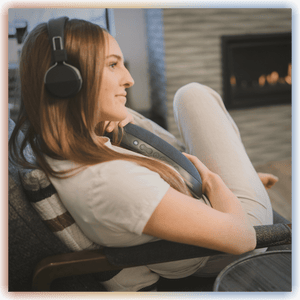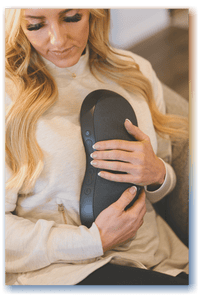 SOUND HEALING

Timeless Healing for the Modern Soul
From the dawn of civilization many cultures have used sound vibrations to heal, promote wellness, and to access higher levels of consciousness. Now you can too!
SonicBliss™ Wave Speaker
Did You Know?
Harmonic music and low frequency sound vibrations are known to help treat such conditions as stress, anxiety, high blood pressure, depression, insomnia, and even chronic pain. Here's more info about the benefits of sound vibrations.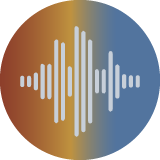 Anxiety Relief
Helps promote calmness and relaxation.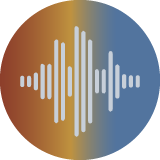 Meditation
Get centered and grounded faster while meditating.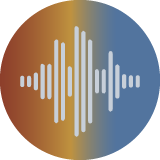 Better Sleep
Clear the mind and lose yourself in soothing music vibrations.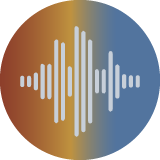 Pain Relief
Can provide temporary relief from chronic pain.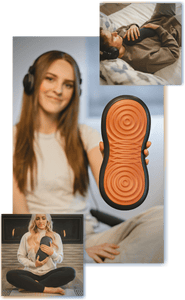 introducing
SonicBliss
The Vibroacoustic Wave Speaker
Immerse yourself in the tranquil embrace of the SonicBliss™ Vibroacoustic Wave Speaker's deep, resonating sound vibrations. Make its serenity a staple in your day, letting the day's tension gracefully dissolve. Ideal for morning meditation, nightly relaxation, alleviating worries, or just vibing to your favorite tunes. Every relaxation seeker needs this dynamic device in their life. more info
Your Natural Path to Calmness
The SonicBliss™ Wave Speaker provides an intuitive, effective answer for those on a quest for an organic stress relief method. Wave farewell to tension and unease — your key to a more peaceful, joyous self! more info
Craft Your Perfect Sound Experience
With its chic design, the patent pending SonicBliss™ Vibroacoustic Wave Speaker is in a league of its own. Individual controls for resonating bass vibrations and volume (mids & highs) let you tailor your listening. Dive into your all-time favorite tracks or discover a spectrum of vibroacoustic music, meditative tunes, therapeutic tones, binaural beats, and even the comforting hum of a cat's purr. more info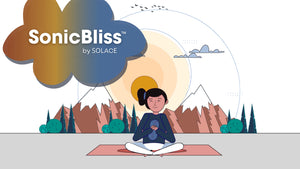 "Many say that life entered the human body by the help of music, but the truth is that life itself is music."
What people are saying...
SonicBliss™ is brilliant!

"I have an autistic son and I'm always looking for tools, toys, anything to comfort and chill him. It was remarkable. I think every school classroom should have one in a calming corner to help kiddos with anxiety. And for mama's out there with special needs kiddo, get one. Your kiddo will love it. But even more importantly, so will you."

— 

Melissa B.
A more deep and meaningful practice...

"The SonicBliss™ Wave Speaker is a great and powerful way to instantly ground yourself. As someone who meditates, it often takes me a while to get into the groove, but SonicBliss™ accelerated my ability to be centered and have a more deep and meaningful practice. "

— 

Sara W.
"It was very helpful for me to use the SonicBliss™ vibroacoustic speaker while I was recovering from knee surgery. I used SonicBliss™ to play sound therapy to help with nerve pain and inflammation, and it quickly helped lower the pain I was experiencing in my knee and lower leg. Highly recommend!"

— 

Laura C.
I stayed asleep longer...

"I served in the Marine Corps and had several injuries related to my time of service. With SonicBliss™ sleep came quicker; stayed asleep longer; and felt more rested. In this state, I can lose myself in the sounds & vibrations and be at peace. I highly recommend Solace vibrational therapy."

— 

Oz H. Marine Corps Veteran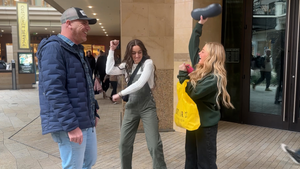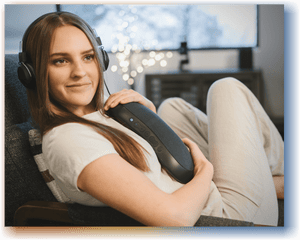 SonicBliss
The Vibroacoustic Wave Speaker
The sleek and stylish SonicBliss™ Vibroacoustic Wave Speaker is unlike any other. Listen to your favorite tunes or explore a diverse range of vibroacoustic music, meditation music, healing tones, binaural beats, and even the soothing humm of a cat's purr.
More Info